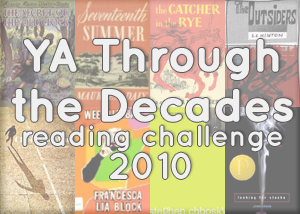 I'll also be doing the YA reading challenge in 2010.
Rules copied from site:
1. Books should be considered YA or, for older books, should feature a teenaged main character or point of view. Let's say from roughly ages 12-18.
2. Read at least one book from each decade: 1930s or earlier; 1940s; 1950s; 1960s; 1970s; 1980s; 1990s; 2000s. Re-reads are fine. Check the main challenge page for book ideas for each time period.
3. Sign up either by commenting or signing the Linky at the bottom of the page. You can use the graphic on your blog to promote the challenge if you wish. You can start this challenge at any time during the year.
I read a whole lot of YA, but since I grew up in a non-English speaking household, I missed a lot of the classics. So this'll be an adventure in getting acquainted in what YA was like before it had its own entire section in Barnes and Noble.
Edit:
( This is my potential reading list right now: (I'm fudging it and throwing in some middle-grade) )